Duration

Timed session @ $150/hr.

Up to 2 hours.

Tools

Zoom


Learners

1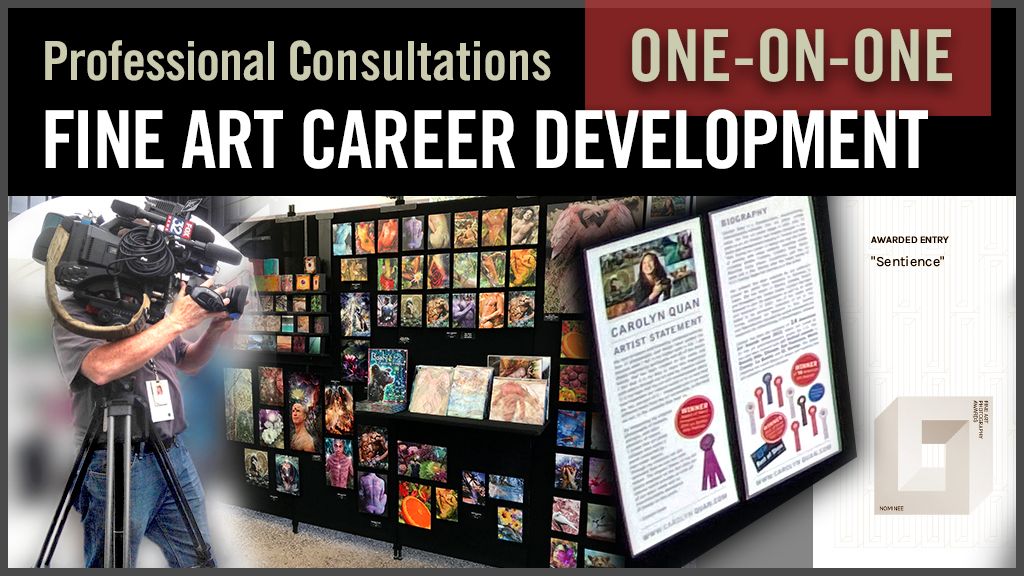 Fine Art Career Development Consultation
* One-On-One - Timed session @ $150/hr *


With over 40+ years of professional experience in the art and design industries, both as a commercial designer and fine artist, Carolyn Quan offers expertise and knowledge gained from real-life experiences, both personally and in business, to help you with your professional and career development. Included in her resume are the following:
40+ years as a self-employed entrepreneur
40+ years in professional creative roles
20+ years as an Art Festival Artist
12+ years as a Producer of Open Studio Events
9+ years as a Gallery Artist
6+ years as an Art Gallery Owner
2 years as an Artist-In-Residence
Teacher of annual professional development for artists workshops over 15 years
Winner of 20+ awards for her fine art and photography - both national and international
Featured in magazines, radio, television, and in a documentary film
Sold over $650k in retail value of her own artwork
Artwork held in permanent art collection of the Kinsey Institute
Involved in entrepreneurship, marketing, promotion, photography, design, and art direction her entire professional life, Carolyn's ability to guide you on your journey is unique and invaluable.
Bring your specific questions and challenges to the session and find solutions to help you make progress in your professional art career.


Topics of discussion may include the following:
1. Become Computer, Smartphone/Tablet Literate and Software-Literate
2. Always Strive to Be a Better Artist
3. Create a Signature Style and Separate Yourself from Your Competition.
4. Finance Your Dreams and Invest in Your Art "Business".
5.Know and Understand Your Market.
6. Build a Professional Portfolio for Presentation Purposes.
7. Create Promotional Materials to Inform Others About You and Your Art (Branding).
8. Create, Promote and Increase Your Web Presence (Branding).
9. Target Your Specific Market with Advertising and Direct Mail.
10. Build Mailing Lists (Email Blasts and Newsletters).
11. Enhance Your Exposure Through Cross-Promotions and Bartering.
12. Create Press Releases to Gain Exposure to the Public Through Editorial Coverage.
13. Identify the Types of Art Venues You Wish To Display Your Art In.
14. Pursue Additional Art Income or Residual Income.
15. Expand Your Customer Base by Wholesaling to Other Galleries and Retail Venues.
16. Diversify Your Product, Price Points, Venues and Accounts.
17. Use Social Media to Promote Yourself, Your Art and Your Shows.
18. Understand and Learn How to Make Permanent Displays or Temporary Shows Work for You.
19. Generate Exposure and Sales By Taking Your Art On the Road (Festivals, Fairs, Expos).
20. Build and Maintain Long-term Relationships with Your Clients.
Created with