Duration

1 hour

Tools

Zoom

Learners

Max. 15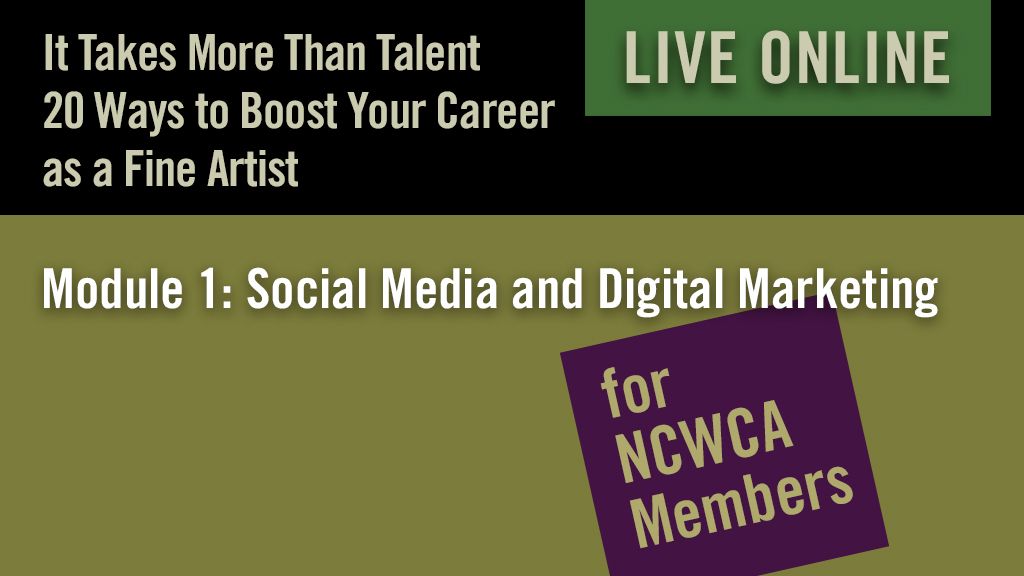 It Takes More Than Talent: 20 Ways to Boost Your Career As a Fine Artist - Module 1: Social Media and Digital Marketing
* For Members of NCWCA - Northern California Women's Caucus for Art.
Saturday, September 9
10am PST to 11 am
Via Zoom. Sign-in will begin at 9:45 am.
This live online class is one of a 4-module course focused on professional development for fine artists at all stages of their career, and for hobbyists looking to turn their art-related hobbies into businesses and careers.
Module 1 focuses on social media presence and social media marketing; and other forms of digital marketing including e-newsletters, email marketing, and building databases.

There will be Q+A sessions throughout the class.

Zoom meeting details will be emailed to you approx. 1 week prior to the class.


In-Depth Information On 4 of the 20 Subjects Covered in the Full Course
1. Become Computer, Smartphone, and Software-Literate.
2. Use Social Media to Promote Yourself, Your Art and Your Shows.
3. Build Mailing Lists for Email Blasts and Newsletters.
4. * Bonus Topic - Pursue Additional Online Art Income or Residual Income.
Q + A
Bring your questions related to these subjects and we will discuss them based on my experiences and knowledge gathered from my 40+ years as a professional artist.
Created with